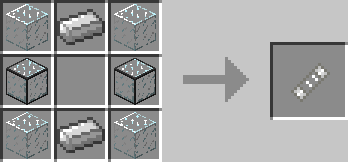 Vials work like buckets, but they are used to pick up any of the caustic liquids. They can stack up to 8.
Each vial has a resource cost of 6 glass and 4 iron. Two iron and two glass are required to make two pieces of reinforced glass.
In the SMP version 0.2.6 of Plasmacraft, there is a minor display bug when using vials to pick up liquids. After picking up several liquids using a stack of vials, the amount of vials in your inventory may be less than you started out with. You can resolve this by picking up any block or item in your inventory and placing it back down. Opening a furnace, chest, or workbench also seems to fix this problem.
Filling a vial with goop.
Edit

If you fill a vial with any of the goops in a crafting grid, that vial can then be used to place the liquid version of the goop into the world.