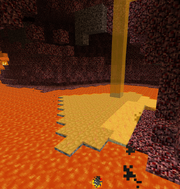 Neptunium can be found in the Nether, in liquid form and in ore form . It can be acquired by either picking it up with a vial , or mining the ore and smelting the ore in the plasmificator .
A iron pickaxe is at least required to mine neptunium ore.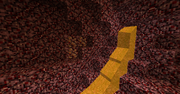 Neptunium ore is found in the nether as an easier alterative to getting the liquid form. Smelting the ore in the plasmificator will give you Neptunium Goop which you can put in a vial or smelt again into its' ingot form.